Types of sites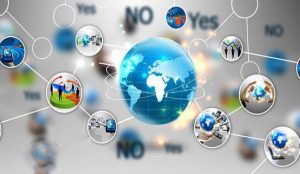 There are numerous types of websites based on the purposes they serve. Today, when there are more than 300 million functioning websites on the Internet, it becomes a bit difficult to classify them, not all websites fall into one category or another. In this article we will try to see what types of websites exist on the Internet. It should be borne in mind that sites on the web can vary significantly and satisfy different needs, such as information, commercial, health, technology, etc. Consider the main of those that quite often can be found on the information spaces of the global network.
Corporate sites.
These sites are also known as business sites that provide consumer information about the company, as well as providing contact numbers and an address for making a deal or providing services. Corporate websites are useful for companies that plan to use the website as a marketing tool. Such tools are convenient because the company can publish commercial or other information that is interesting to consumers as soon as possible. Each large and self-respecting company has its own website on the Internet.
Personal sites.
Personal sites owned by individuals, with their personal profile. Placing on the site what interests them. Typically, such sites can represent any kind of hobby of their owners, for example: "my animals", "my work", "my photos", etc.
E-commerce sites.
These are mainly business websites that allow you to shop outside your home. These are electronic platforms for fans of online stores, and for businessmen this is a great way of doing business without organizing an expensive store. Examples of e-commerce sites: Amazon, Ebay, and the like.
Social networks.
These sites rank first in traffic, as they are created solely for communication and finding friends, etc. In addition to communication, there is still the possibility of doing business and personal use for various kinds of campaigning on the network. Some examples: Facebook, "In contact", "Classmates", etc.
Sites exchange photos and pictures.
These sites allow people to upload their photos. They are usually free to use, so many people can share their photo images online or simply store their photo albums on reliable servers (radikal.ru).
Brochures.
Brochures provide the user with the necessary information about the company's products, how much this or that product costs, what its technical characteristics or other properties, etc. However, unlike e-commerce websites, they do not have a system for conveniently purchasing things online. These sites most likely lead you to the company's retail store.
Blogs.
A blog is a form of weblog. These types of sites are very popular because they provide an individual direct connection with readers. And readers can leave the author their feedback, as well as share their own opinions about the posts posted on the blog. These sites have become one of the marketing strategies for many companies. Many athletes, businessmen, artists use blogs to communicate with their audiences.
News websites.
In the days of technological development, each newspaper or magazine has its own Internet edition. News websites allow users from all over the world to access the latest news. These types of sites are very convenient for many users, because they can aggregate news from a variety of sources from different directions (lenta.ru, mk.ru).
Government and municipal websites.
All branches of government have their own websites, so information is provided to the public on a regular basis. Such sites can approximately show the level of development of information technologies in each country and are required to serve for the convenience of citizens in promptly obtaining genuine and necessary information (gosuslugi.ru, kremlin.ru)
Content sites.
These sites are among the most useful sites on the Internet when it comes to getting information on a wide variety of topics. Such sites are usually created in accordance with a specific theme or direction and only cover questions within their own subject group.
Services.
Web resources that are increasingly popular among webmasters and users. Sites-services are a kind of software through which users have the opportunity to process texts, music, videos, search for data in various databases using various methods, use the services of organizers, translators, interactive tutorials and much more. For example, such large search portals as Google and Yandex provide users with a variety of different services.